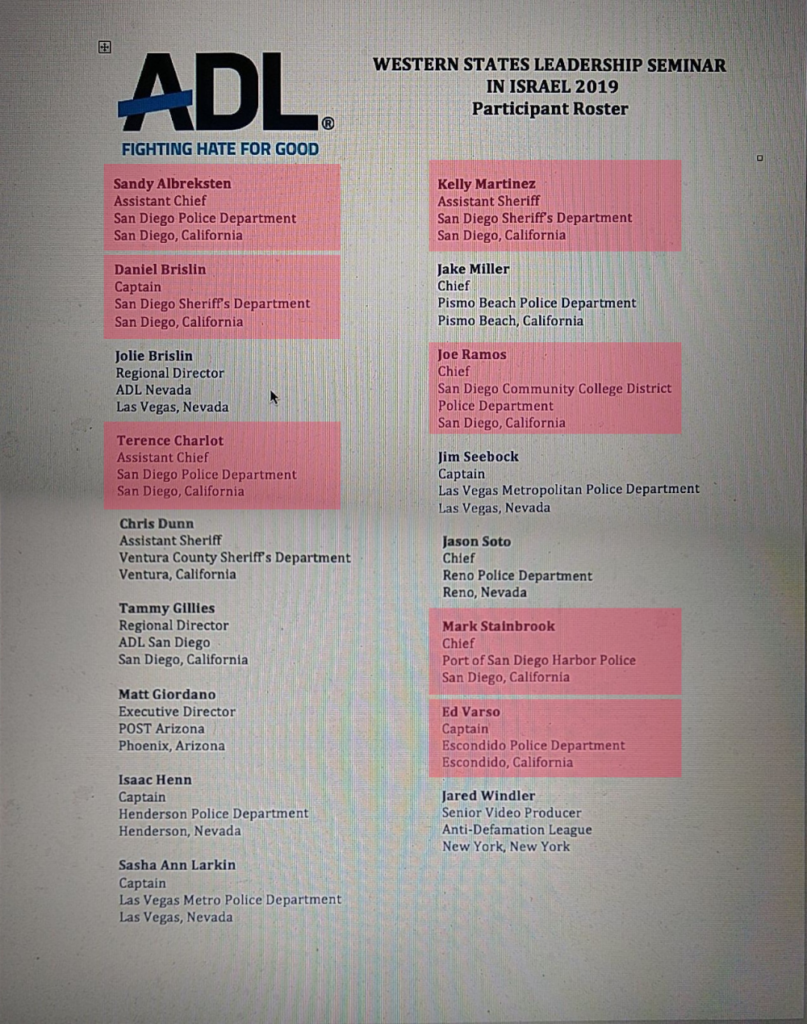 Seven representatives of five San Diego County law enforcement groups are currently participating in the Anti-Defamation League (ADL)-sponsored militarized training formerly known as the National Counter-Terrorism Seminar in Israel, according to a document acquired by the national campaign to end worst-practice militarization trainings of US law enforcement.
The five local agencies, San Diego County Sheriff, San Diego Police Department, Escondido Police Department, Port of San Diego Harbor Police, and San Diego Community College District, are listed as attendees of the "Western States Leadership Seminar in Israel 2019."
The documents were acquired by Researching the American-Israeli Alliance (RAIA), a research initiative launched in 2017 dedicated to exposing the connections between American and Israeli state violence. Since the Spring of 2017, RAIA and Jewish Voice for Peace have led a national initiative, the Deadly Exchange, to end US-Israel police partnerships. The Deadly Exchange national petition, calling on the ADL to end this specific training, has over 20,000 signatures.
The ADL bills itself as a 'Civil Rights Organization,' but former supporters have called the organization's branding into question and a coalition of 14 organizations have written an open letter urging individuals and organizations to #DropTheADL due to decades of "right-wing activities undermining the rights of Black, immigrant, queer, Muslim, Arab, and other marginalized communities."
Israel is an occupying power exerting control over Palestinians, and consistently violates international human rights law, including the imprisonment of children, administrative detention without charge, and inhumane practices used to control crowds such as skunk water, tear gas, and rubber-coated bullets. Over the past five decades, more than 800,000 Palestinians have been imprisoned or detained by Israel.
The idea that security for some communities requires violence against others is a deadly falsehood that underpins the policies of both the U.S. and Israeli governments.
This is why Jewish Voice for Peace along with dozens of San Diego County individuals and groups are calling for ADL San Diego and local elected officials to end these trainings in the future.
You can add your name to the petition here.
Join us. We will defend each other.

Jewish Voice for Peace San Diego (JVP San Diego) is one of over 70 grassroots chapters across the country. Jewish Voice for Peace a community of people dedicated to supporting and leading winnable campaigns to change US policy, shift US discourse, and even the playing field to create the political conditions that will allow for justice and lasting peace.
###