We hope you will join us in supporting these three upcoming events. Please find full details for each below.
Sun, Feb 27: Virtual panel with writer Mohammed El-Kurd. RSVP
Fri, Mar 11: First day of the 2022 San Diego Arab Film Festival. RSVP
Sat, Mar 12: Virtual panel on fighting global Islamophobia. RSVP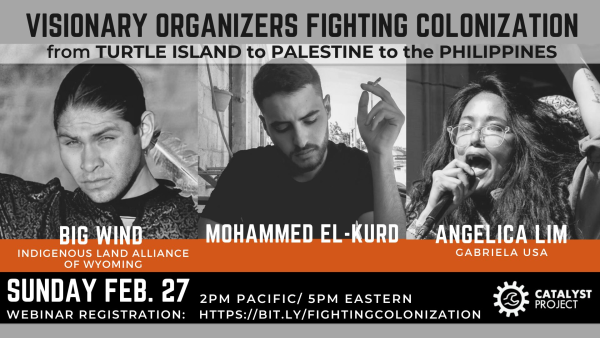 Hosted by Catalyst Project: Indigenous people are leading and winning fights to protect people, the planet and what is sacred. Come listen to, learn from, and be inspired by visionaries who have been organizing at the forefront of movements from the Philippines, to Minnesota, to Palestine.

Three brilliant community organizers will speak with us about the ongoing colonization of these places, and the politics and strategies of decolonial resistance. We will be joined by:Big Wind (Two Spirit member of the Northern Arapahoe tribe),Mohammed El-Kurd (Palestinian author and organizer), andAngelica Lin (Solidarity Officer of GABRIELA USA speaking on the Philippines).There will be Spanish language interpretation, sign language and closed captioning. Co-sponsors include SURJ, Garbiela USA, Indigenous Solidarity Network, Yalla Indivisble, and JVP Boston.

Speaker highlight:
MOHAMMED EL-KURD is an internationally-touring and award-winning writer from Jerusalem, occupied Palestine. His work has been featured in numerous international outlets and he is currently the Palestine Correspondent for The Nation. RIFQA, his debut collection of poetry, was published by Haymarket Books.
---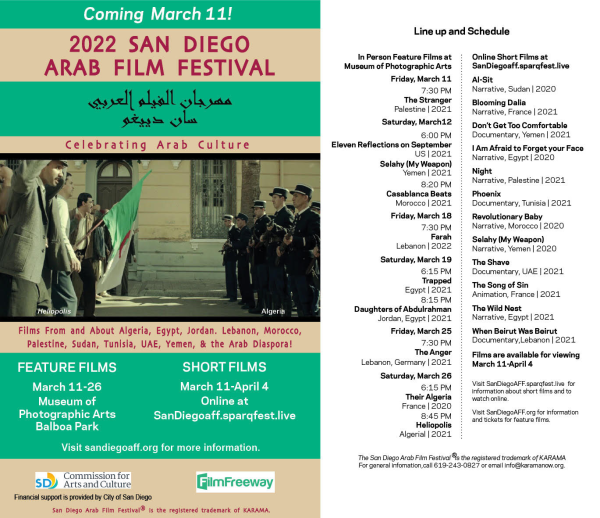 Hosted by KARAMA: San Diego Arab Film Festival is Back for Its 11th Year!

The San Diego Arab Film Festival is back for 2022 with a hybrid festival: live, in-person feature film showings at the Museum of Photographic Arts combined with an online offering of short films presented on the SparqFest Platform. Both the in-person and on-line presentations begin on March 11.

The Festival program showcases 9 feature films and 12 short films from across the Arab World. In-person screenings will also offer buffet-style Arabic dinner.
---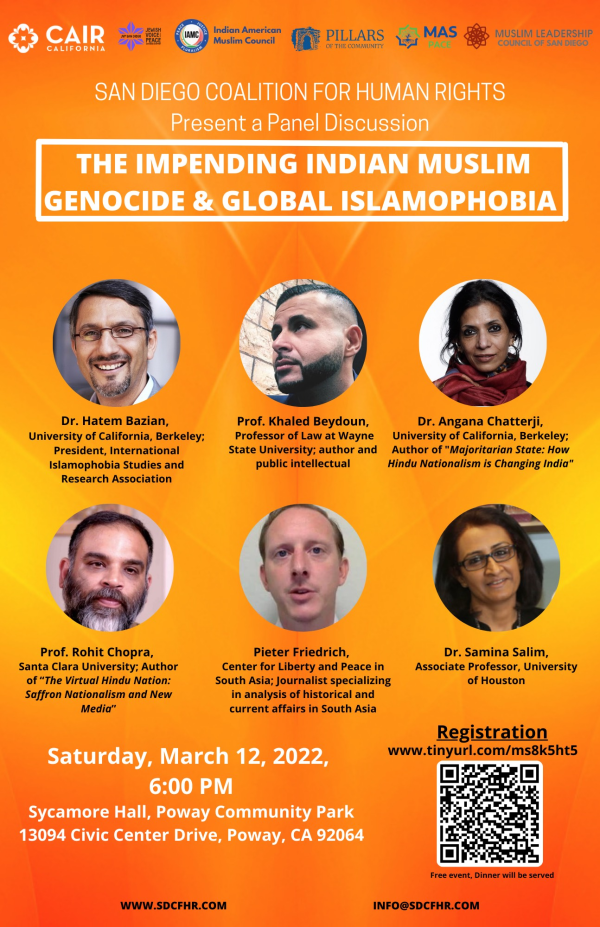 Hosted by San Diego Coalition for Human Rights: In-person event at Sycamore Hall, Poway Community Park, 13094 Civic Center Drive, Poway, CA 92064. Learn about the Impending Indian Muslim Genocide & Global Islamophobia. Dinner will be served.

Co-sponsors include Council on American Islamic Relations of California (CAIR-CA), Jewish Voice for Peace San Diego Chapter, Indian American Muslim Council, Pillars of the Community San Diego (POTCSD), MAS-PACE, and Muslim Leadership Council of San Diego.